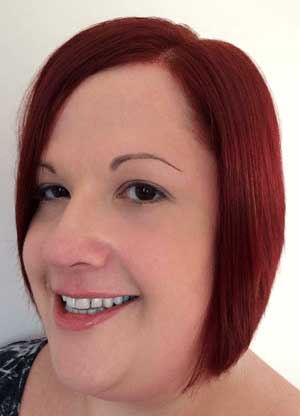 BA (Hons), D.Hyp, DipThyp, PNLP, MHS (Accred)
If you're thinking about buying a hypnotherapy download, you're considering online therapy sessions or you're a therapist who is looking for supervision, then you'll probably want to know more about the voice behind the website.
Hypnotherapy-Downloads.com was founded by Vicki Crane, a UK based Hypnotherapist, Talking Therapist and Accredited Member of The National Hypnotherapy Society. Originally from a background in the design and advertising industry, Vicki's interest in hypnosis began during her time at university.
Following a number of years working with various design and advertising agencies, Vicki began her initial training in Hypnotherapy and Neuro Linguistic Programming (NLP). Since then, she has continued to develop her therapy skills with further training in Psychotherapy, Advanced Hypnosis, Emotional Freedom Technique (EFT) and Cognitive Behavioural Therapy (CBT). She is also trained in the Rewind Technique, which is a method for helping people who are experiencing high anxiety conditions such as phobias, trauma and PTSD.
Based in Leeds, West Yorkshire, Vicki has been in practice since 2007. She works with a wide variety of people including students, business people, professionals and individuals who want to make positive life changes. As an experienced therapist, she is an approved Supervisor for The National Hypnotherapy Society and provides supervision for trainee, newly qualified and experienced Hypnotherapists. 
All hypnotherapy audio downloads available to buy from Hypnotherapy-Downloads.com have been written and recorded by Vicki and are designed to help people to make positive life changes including stopping smoking, losing weight, fears and phobias, anxiety and self esteem.
Providing one-to-one sessions from her practice in Leeds and also online, Vicki uses a combination of hypnosis, NLP and therapy to help people make the changes that they need to move forwards in their lives and be the person they want to be.
Although some of the issues that we experience often appear to be similar, everyone is different and each journey to overcoming the issue will be different too. Some of the issues that Vicki often works with in her therapy practice include:
This is just a short list of the many issues that therapy can help with. If you can't see a hypnotherapy download to suit your individual situation, Vicki also offers one-to-one therapy sessions online. For more information, please click here.
For more information about face-to-face sessions in Leeds, please visit: hypnotherapy-in-leeds.co.uk
Professional Registration & Roles
Registration No: VC00P1269